As we prepared for 2 weddings in a year and an empty nest, we knew 2 dogs (Toller and Pug) moving as well as an Aussie mix moving going from a peak of 4 dogs to one. The Yorkey has been coast to coast and is 6 years old.  A search of rare United States breeds and I discovered videos of Kooikerhondje and the adventure began.
Finding a Kooikerhondje
Next step was to locate a female puppy available.  There were none in Tennessee. Closest known Kooikier, gulf coast Alabama. Next, I discovered two breeders in Texas then two in California. This led to discovery of Kooikerhondje Club as the breed had not yet been recognized by the AKC. I sent an email desiring a female for a pet not for breeding. I received several emails including a couple of immediately available males. About a week later, I received an email wanting to talk from a breeder in central Pennsylvania who had a female available. We agreed on a time for an interview which cleared the way for the puppy. Finally, we agreed on a delivery date and how to get her back to Tennessee.
Picking up the Kooikier
Driving would not work. Two plane tickets were expensive, so I flew solo in a single day with an hour and a half one way drive to pick up the puppy. With an empty carrier in tow and dreams of wet shirts and an escaping puppy in airport pre-check, the day arrived for the journey. Plane landed in PA. The first leg complete. The drive begins to retrieve our puppy and bring her home. After picking up the puppy and needed papers, the uneventful drive back to the airport is complete.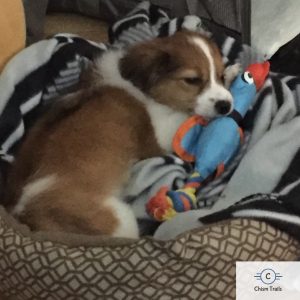 I discuss with the agent what needs to happen as I required a full body scan and container has to be scanned. I had a leash on the puppy as I had dreams of a puppy chase through the airport. The decision included that I would pass the puppy to a TSA agent on the other side while I completed my scan. Puppy in my arms, but still not back in her crate. Dropped her back feet through the opening, front feet and finally leash lathed and no escape.
Sometime during the TSA my wife texts wanting pictures and checking on me. I managed to snap a picture of a foot and an eye but this was all I could manage before the escape in the boarding area. Kooiker's traits include speed, skiddishness, and cuddles. Puppy back in crate and an uneventful remainder of the flight.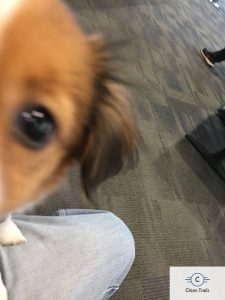 Blessed by our Kooikerhondje
It has been almost a year since the arrival of our Kooikerhondje puppy. She has discovered the camper front window being open. She has also discovered a fenced back yard with a 2 story accessible sky fort. This includes chasing balls in he backyard with the Yorkie. Most important is morning petting session and cuddles on the couch.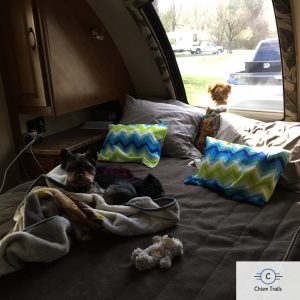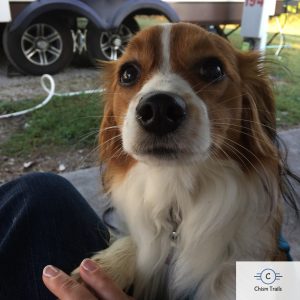 During the time we got our beloved Kooiker, the Smokey Mountain Fires were happening and we were heart sick for our friends and fellow Tennesseans. One individual instrumental in supporting "her people" after fire devastated the Gatlinburg area and it is in her honor and appreciation the puppy is named.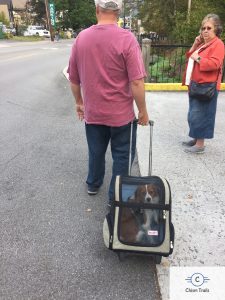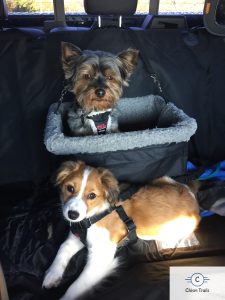 Follow our adventures on Chism Trails.