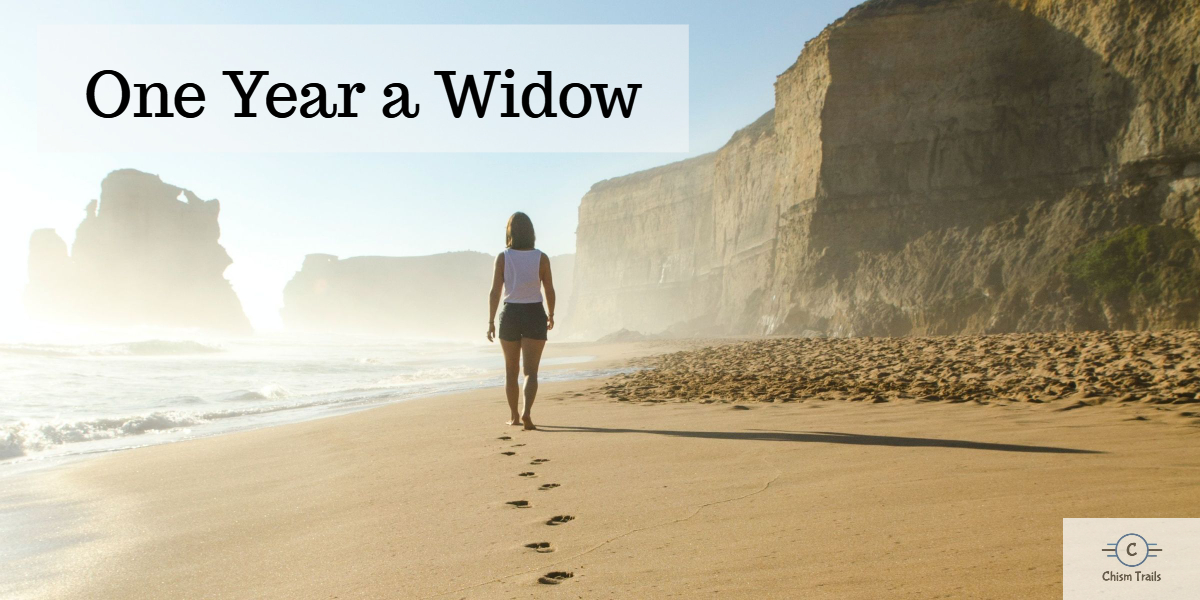 It has been one year since I became a widow. How am I feeling? That is the question that many have asked. The answer . . .  tired, weary, lost, anxious, sad; but also thankful, grateful, and joyful.
You see the memories and the gifts that Mark left me are beautiful! My children are the greatest gift. They have been my strength through this very trying and lonely time in my life. 
I am so grateful that Mark planned a long time ago for even this time. Last year as we talked, I could tell he was deep in thought. I asked him if he was scared or worried. He told me, "No, I am not scared. I know where I am going, and I'm looking forward to heaven. But I am worried."  I looked at him with my odd look and asked why he was worried then. He simply said, "I am worried about you. Will you be okay?" 
He knew that even though most think I am very independent, I am very dependent—on him. We did life as a team. We held each other up and supported each other in everything we did in our journey together.  When the team is broken up, it makes it rough. I remember telling him that day that I would be okay, but inwardly wondering how I was going to do life without him. 
One Year with Help
It has been a year. I have made it through, but not without his help and guidance. He made a plan for me. He set up resources for me to help me. He took care of me through planning. I didn't even know how much over the years he planned for that "just in case" moment. I am grateful. 
He also gave me some wonderful children who have been beside me every step of the way, helping and guiding me as needed. They have made sure I am not alone for long periods of time and have included me in their activities. The grandchildren have been a huge blessing and joy to hug on and love on every chance I get. I have a fantastic job with a community of likeminded friends who have held me up in prayer through the tough times, and I am so thankful. 
Hardships
The hardships over the year have included setting boundaries and making decisions. Mark used to help with those boundaries and decisions. I tend to say yes too often where I should say no. I tend to fall to pressure to say I will do something when I really should say, or just want to say, no. I am working on this still. I'm seeking advice and reading books to find help. 
Decisions, decisions, so many decisions. It was so nice over the years to defer the decision-making process, but I can't do that anymore. I must make the decision. Decisions are hard. I have had to make several tough decisions this year. I am confident in the decisions I have made, but some were really taxing on me mentally and physically. I am working on being more confident in making decisions without the worry of "is it the right decision" or "what will others think." I need to be more concerned about what my Lord thinks and what is best for me. 
Shoulder Taps
Recently, a friend came by to help me with something at the house. As we were talking, I was telling him about a tough decision that I had to make this past year. I told him how I struggled with it and that Mark would have been the one to lead in that decision.  We were talking about how stressed the situation was making me and how it was affecting my health and my extended family. 
My friend said he calls those feelings "shoulder taps."  I looked at him strangely, and he said sometimes when we feel uncomfortable it could simply be the Lord helping and guiding us in that decision. Hmm, "shoulder taps." I like that because after I made the tough decision to walk away from that situation, I felt so relieved. While I was very sad to have to do it, I am confident in the decision and that the Lord was leading me away from a bad situation. 
My Health
This past year I have been working on my own health–trying to rest after years of caregiving and putting my own health on the back burner.  The health journey is not an easy one after a time like this, but I've learned the importance of letting the body rest and recover after such a traumatic few years. 
Mental health is a real thing too. Some just let that go, but I am here to say, "Don't do that." Mental health has deep roots and affects your body subconsciously. The effects on the body are usually caused by triggers. Sometimes I may not even see a trigger coming until it is right there on top of me causing my body to react in ways I can't control. Honestly, I find it very annoying. I don't like to not be in control. I had to reach out for help from my friend and mentor to figure out what was happening. She has been a tremendous help and a true blessing by checking in on me throughout the year. She is thirteen years a widow as I write this, so she very much knows the emotions and feelings that I experience daily. Her husband was a groomsman in our wedding. I also reached out to a health coach for some help and guidance. Now I am closer to understanding and working on that area of my health to make it better. It is not an easy process, and it will be one day at a time for years to come. 
Adventures and Joy
While it has been a tough year of healing, grieving and stressful decisions, the year did not go by without adventures and joy. I am thankful that Mark and I worked as a team as we ventured into our second home or retirement home plans. We got our travel trailer several years ago, and then upgraded to a four seasons Lance Travel Trailer.  We learned the ins and outs of RV travel together.  When we went on trips, he had his things to do, and I had mine; but he took the time to teach me the things that he normally did so that I would know how. 
As he started getting sick, we were still able to go out some because he could tell me what to do and what to remember to do. I wrote those things down as he told me and guided me. This year I laminated those handwritten notes so I would always have his help with me. Some family members assumed I would simply sell the travel trailer, but Mark told me to please keep it and use it.  He wanted me to continue making memories with our grandchildren and enjoy our retirement home. I was able to get out in the travel trailer five times this first year. I love our travel trailer and I even sleep so much better in it. So that peace that comes with being in the camper for a few days is a much-needed endeavor. I am grateful for that little piece of calm. 
Lessons Learned
What have I learned the most this year? I have learned that I can still be dependent. As I have grown closer to my Saviour, my dependence has been more on Him and His Help and guidance.  I am finding comfort and blessings in His shoulder taps to guide me. 
Psalms 61:2 says, "From the end of the earth will I cry unto thee, when my heart is overwhelmed: lead me to the rock that is higher than I."
As I journey forward into the coming years, my prayer is to hold onto Mark's favorite verse, Galatians 5:13. "For, brethren, ye have been called unto liberty; only use not liberty for an occasion to the flesh, but by love serve one another."
One year a widow with more years to come.
Some helpful books that have been a huge blessing to me.