William Chism (1784-1867) Genealogy
Genealogy is a collection of information related to individuals and family history. This includes pictures of an individual, their relationship to others, and records documenting that relationship. These records can include primary sources like birth certificates, land records, and wills as well as secondary sources like bible records and undocumented genealogy records.
In some ways, genealogy and research are easier due to the internet, but it also allows the permutation of myths. If I do a Google search of William Chism it will bring back marriage dates from 1804 to 1808. This Bible record found recently while visiting the Filson Historical Society in Louisville, KY shows 1804. This page notably ends with "I think." Ninety Percent accurate, but the marriage year is wrong.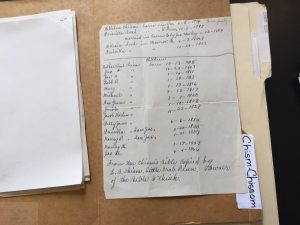 The original marriage record is housed in the county clerk's office in Barren County, KY. This copy was obtained from original record microfilmed by the "Genealogical Society Salt Lake City, Utah" on 8 April 1960.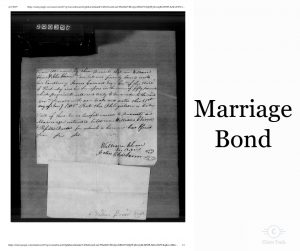 At the same time, I received a copy of William's will which serves to pull the pieces together.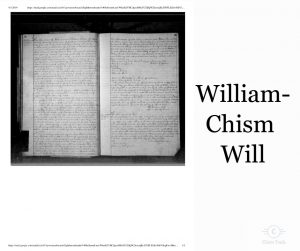 I use RootsMagic to collect genealogical information including birth date, death date, sources, pictures, etc. This screenshot shows a family view for William Chism.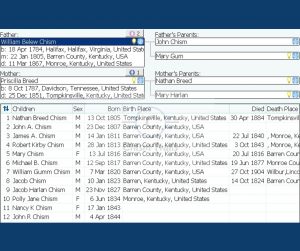 This view shows parents with birth and death dates. Also, marriage is under the Father's birth date. Each child is listed with a birth date. If you observe the Filson Bible record there are two grandchildren recorded, Priscilla born 1835 and Nancy born 1837.
Hopefully, this corrects the record for now. Look for additional genealogical posts in the future.
Sources:
Filson Historical Society – Chism – Chissom Folder
Warren County – State of Kentucky – County Court Clerk's Office – Marriage File 1 – 1799-1811 Microfilmed by the Genealogical Society Salt Lake City, Utah @ Glasgow County, Kentucky 8 April 1960 Image #000356