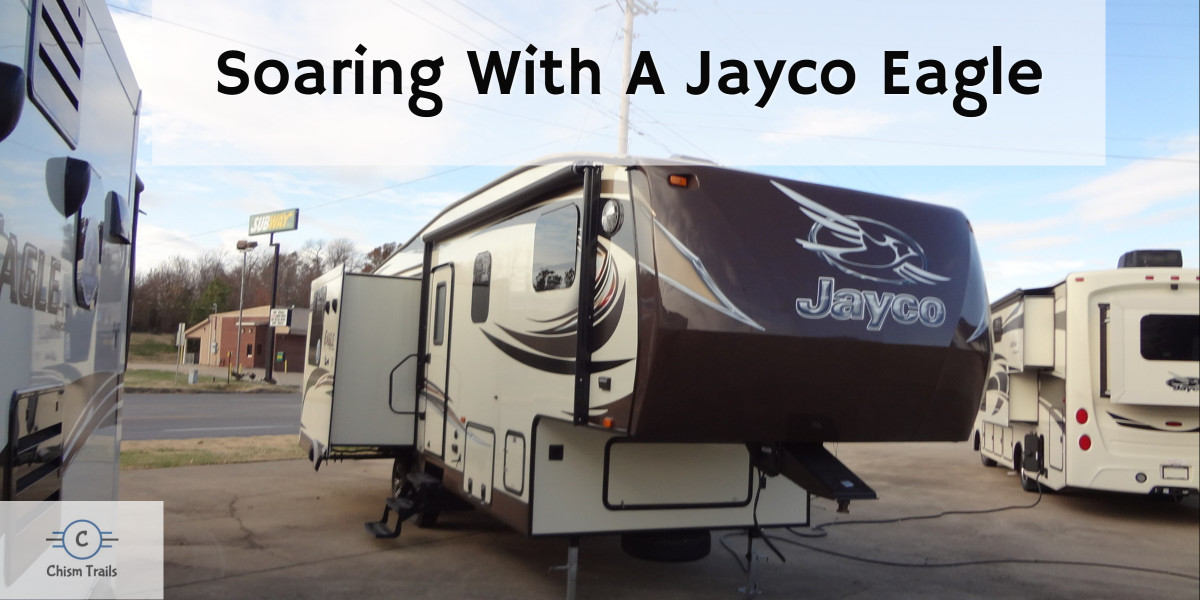 It was evident if we would continue to travel this US of A, we were going to have to consider something easier to pull.  Our family had outgrown the 35 ft Dutchman we owned and loved for so many years.  Our daughter and her husband had purchased their own camper and their children were grown now.  So, we didn't need to sleep 8.  And we also knew that many of the state parks couldn't accommodate the longer units.  Our intention was to downsize to a 25 to 27 ft unit.  Thinking that it would be lighter and less difficult for our 350 Ford truck to maneuver. Since our daughter and son in law had bought a Jayco, we will start there.  So, let the shopping begin.
FIRST TIME PURCHASING A NEW CAMPER
Besides the length, we talked about what we wanted to upgrade to for the inside and also for the outside.  For the first time in our camper purchases we decided to buy new.  We were both very excited!  After researching several camper sales places and reviewing different models on line, it was time to put the foot work to the search.
LET THE SHOPPING BEGIN
First stop-Paducah, KY to the Jayco Camper sales. Jayco had a reputation for quality craftmanship and they had great customer reviews.  In order to travel the way we wanted to, we needed something well built.  I cannot tell you how difficult it was to think 'small'.  It would be nearly 10 feet smaller than the Dutchman we were going to give up!  Yikes, I thought as I mentally wondered where would my treasures go?  Then I remembered Lucy's rock collection in the 'Long Long Trailer' movie.
Lucy's rock collection nearly caused their trailer to fall off of a mountain they were trying to pull it over.  So some of the things I 'couldn't live without' would have to go.
SHOPPING IS WORK!
My daughter and her husband were anxious to help us find something and went with us on several shopping road trips. We walked and took pictures and looked at styles and discussed prices.  As a woman, I was interested in the appearance of the inside and storage.  I knew my husband would thoroughly inspect the structure for durability.  We settled on 3 slides to keep at least some of the living space as we had in the Dutchman and still be able to pull it easier.  There needed to be plenty of room in the storage area for outside equipment: fold up chairs, lawn mats, tools, grill, extra gas tanks, sewer hookup supplies etc.  We viewed every 25-27 foot long unit for sale within a 4 hour drive.
FINALLY THE DECISION WAS MADE
The Eagle Had Landed – Jayco
Back to the first camper sales, we made a deal on a 27.5 ft Jayco Eagle.  We said goodbye to our 'full of precious memories' Dutchman and took custody of our new 3 slide Jayco Eagle.  Not until we got home did we realize all of the extras that were in it.  And we  continue to see neat things about it that we like.
SOME OF MY FAVORITE THINGS
The small bedroom looks bigger because it opens with a sliding door to the bath.  The upstairs slide out contains a closet section for hang up clothes in the bedroom.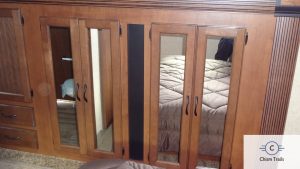 Part of the slide is in the bath and has a cabinet and 2 drawers for linens.  Downstairs there are storage places you wouldn't think of.  Behind the tv, there is a big storage area where I keep paper products and tv trays.  There is a huge deep storage area for extras over the microwave and under the stove.  I love the beautiful sky light in the ceiling that lightens up the unit.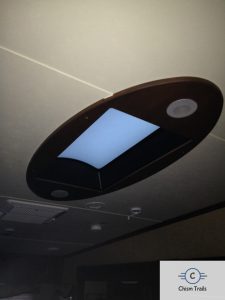 With the tinted windows we can open the shades during the day and see outside but no one can see inside.  To save space, I have replaced all of my mixing bowls with collapasble products .
Then I purchased a nesting set of pots and pans that I love!
My husband is in love with the automatic front and back jacks.  He is also a fan of the remote that operates the slides as well as the awning.  One of these days we are going to figure out the fancy DVD/CD player without sharing it with the other campers.
We have customized the storage under the bed with pull out drawers.  And we are still looking at ways to make it fit our needs more.
YEP, it is feeling a lot like home.  All and all, we are happy with our 2015 Jayco Eagle 5th wheel and expect to be on the road again this summer with some new adventures.