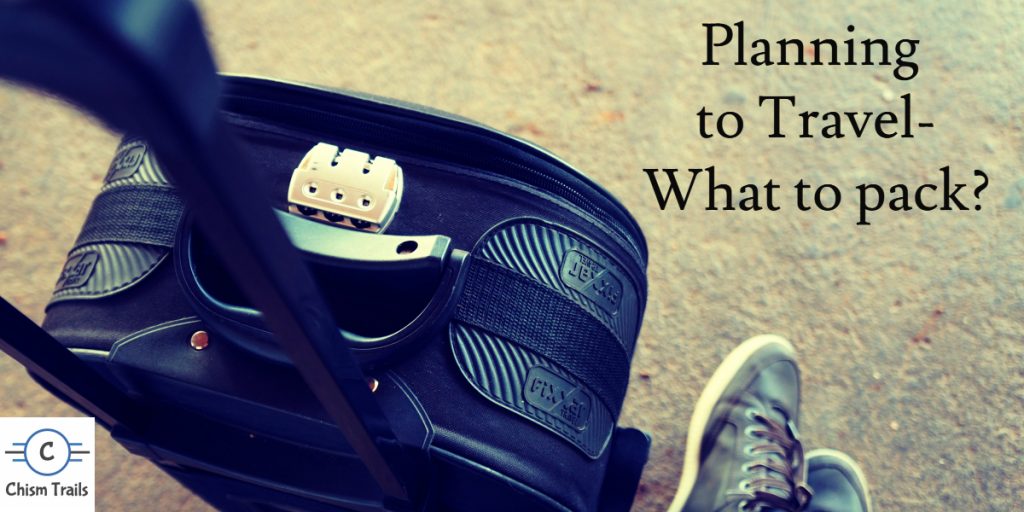 Planning to Travel takes a certain mentality. Yes that is right. I always have to think about what I don't really need rather than what I need. Haha. Yes, I am constantly trying to think minimal living for the trip. The process to actually accomplish this is always being fine tuned for us.
One of the key things I have learned to do is to think about that item I feel I may need and decide if it has multiple uses that will assist us on the trip. I am constantly asking myself these questions.
Do we really need this item?
Can I use this item for more than one thing?
Will we find joy in having this item with us?
When it comes to clothing. I will figure out the number of days we will be gone and if we will have access to a laundry. How many outfits to we actually need with us before we can take an hour to wash?
Planning for a trip whether it be by car or by airplane is tedious if  we really want to enjoy the entire trip.  We have found the most enjoyable trips are the ones we plan by making lists and spread sheets in order to be organized in our planning efforts. My husband takes care of the actual trip plans while I take care of the plans of what to pack and the eating plan.
Planning to Travel
Here is how it works.  Trip plans: Let's say we are going to be gone 7 days. Here are the first questions I have:
Will we have a full place to stay?
Resort with full kitchen?
Laundry?
Are we taking the RV?
So on this particular trip let say we are taking the RV (my favorite way to travel)
Are we Boon-docking or staying at full hookup campgrounds?
Let's say a little of both. We will be at full hookup sites for 4 of the seven days. So that tells me most likely I will have a place to do Laundry therefore I only need to pack 4 to 5 days worth of clothes. Sometimes while traveling in the RV we may need a change or two for any given day depending on the weather or the circumstances we find our selves in when setting up the RV for the night. So planning accordingly with a few extra set up outfits.  Of course in the RV we will need the linens and such as well. I keep 4 bath towels, several hand towels and rags,  6 kitchen towels and washcloths, plenty of paper towels and napkins (I like the Viva box napkins as they are great for the picnic table)
For Bedding, I usually  have one set on the bed and an extra set.
Planning for Meals
Now for Meals! First together we decide how often we will eat out. Then we actually put they eat out dates on the spread sheet plans. Then it is my husband's adventure to find the resteraunts we will eat at because he likes to find the local places rather than the chain restaurants when we travel.  I then begin menu planning for all the other meals and plan accordingly.
Some tools I like to have for meal planning are essential to the plans. I love to have my Instant Pot with me. This is the most amazing tool to help me with meals. Meals that are easy but nourishing is key. Must have the basics like a mixing bowl, wooden spoons, pots and pans, cutting board and a pairing knife. O and let's not forget the coffee. I have to have coffee in the morning and the easiest I have found is the Kuerig. Just the small one that you add water per cup. This one travels easy.
Planning other ways to Travel
I love to travel in our RV but we have only had our RV a few years. We have traveled for over 25 years and have always had a travel kit of supplies ready to go with us. When traveling to a resort or hotel the travel kit always came in handy.  I stocked the travel kit with the mixing bowl, wooden spoons, cutting boards, a pot or two, a crockpot which eventually turned into the Instant Pot and salt and pepper and more. Our travel kit was not large it was the simple size of a file box.  Whether we were in a resort condo with a full kitchen or just a hotel without a kitchen I always had a way to cook our own meals to save us money so we could enjoy the area. As a family of six eating out can get very expensive.
Some of my Favorites for Travel
What are some of your packing ideas when you travel?