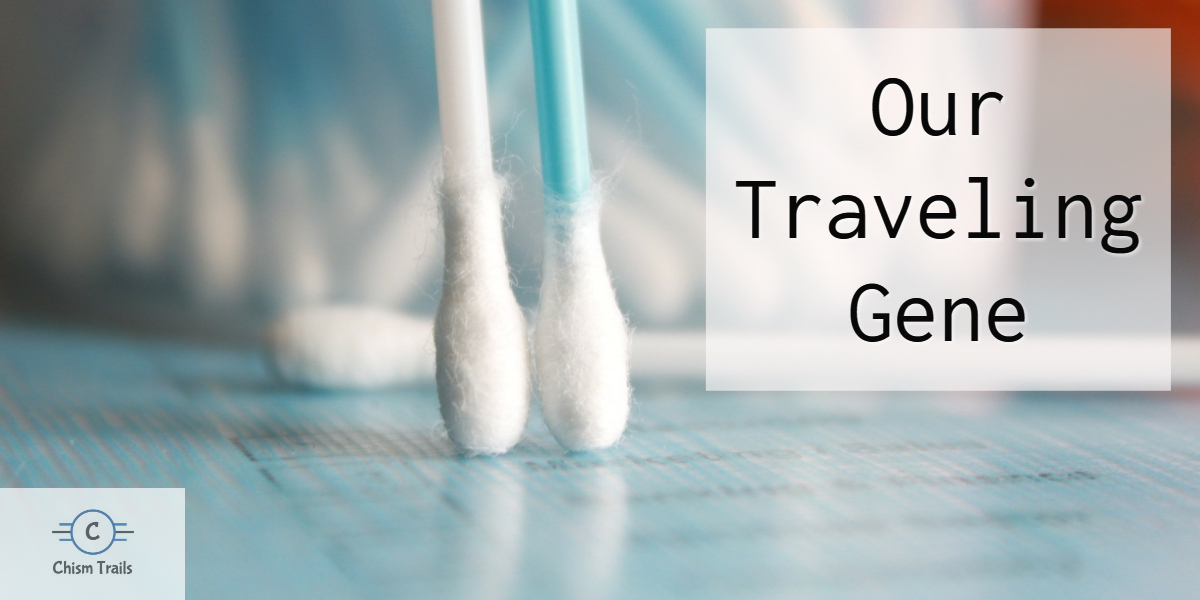 My half sister once asked me if I had the traveling gene. She had returned from a dude ranch vacation which she had fully participated in her 70s. We love to travel so my answer was of course. As genealogy and genetics cross paths I have made new discoveries related to this gene.
The truth is that genetic tests do not lie. So I entered the testing earlier this year open minded about discoveries.  I returned the test kit and the wait began. In the mean time, I became a frequent visitor to the Chisholm Surname and exchanging emails with administrator Robert Chisholm. Listed among the more than 200 genetic results was a group of 5 individuals related to John Chism of Virginia, my ancestor on paper. This listed a haplogroup J-M172. Other much larger groupings were Haplogroup I and Haplogroup R. All 3 referenced ancestors in the United States. Haplogroups allow genetic family groupings used by geneticists and genealogists alike.
DNA Testing
I have received results from my Y DNA test and
Confirmed my paper ancestry and that my Grandfather is a Steam Train Engineer with the L&N  railroad.
Confirmed my Y DNA matches the group identified in the surname grouping
Haplogroups are allows geneticist and genealogists to group people. This categorization system has had many changes over the last 18 years and continues to change which can be found on the International Society of Genetic Genealogist website. Haplogroup I is from Scandinavia (Vikings). Haplogroup R is from Central Europe. These two groups could easily have migrated to Scotland.
This leaves Haplogroup J-M172 now referred to as J2. The J family group currently covers the Fertile Crescent including modern day Turkey and Syria. The J1 family group stayed in that general area were as J2 migrated to the Northern Mediterranean coastal area from Turkey to Italy including Greece upto Croatia and Slovenia. Robert Chisholm suggested that Y DNA migration to Scotland might have occurred with Roman Expansion which makes a lot of sense. Clan surnames about 1100 AD. Scottish Clans inclusion was acceptance of a leader not necessarily direct descendent.
So the traveling gene is real! And I will keep you updated as more discoveries are made.