Chism Culture
Heritage is important. Whether it is genealogy and family ties or the country we live in today, there are common threads which bind us together. Almost 15 years ago at a meeting of  the James Chism Family Association where my family and I first heard a scotish singer who sang about his home in Scotland with an affection not seen in many. Our entire married life we lived 20 miles southeast of music city, USA, Nashville. I have seen or performed with many talented musicians and seen many sides to talent. This man simply picked up his guitar and sang about home. With the re-start of the Middle Tennessee Highland Games at The Hermitage it was an opportunity opportunity to reunite with culture as well as with an old friend as we attended.
Music of Tradition at the Highland Games
My daughter wore her Chisholm tartan hat and shawl to the Highland games. Her fiancé wore a kilt he had picked up at the Tennessee Renaissance Festival.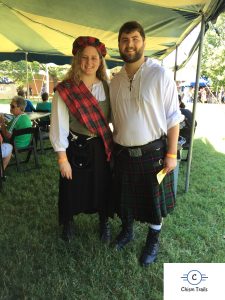 They were surrounded by others wearing family tartans and those simply dressed for the hot day. I had met earlier with Colin Grant-Adams wife at their booth and my wife reminisced concerning the family reunion so long ago. We confirmed the stage and looked at several vendors before settling under a tent with food for the upcoming concert. The music of Scotland rang once again.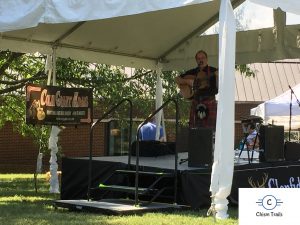 In the convertible I would rather have bag pipes and Celtic Music than any other type of music. More than Amazing Grace played at a fallen police officers funeral bagpipes reflect something which many ignore. It is an exploration of an instrument used in the past and the new exploration of modern musicians. It is the joining of singing and dancing. For us it was a return to the cultural family we knew.