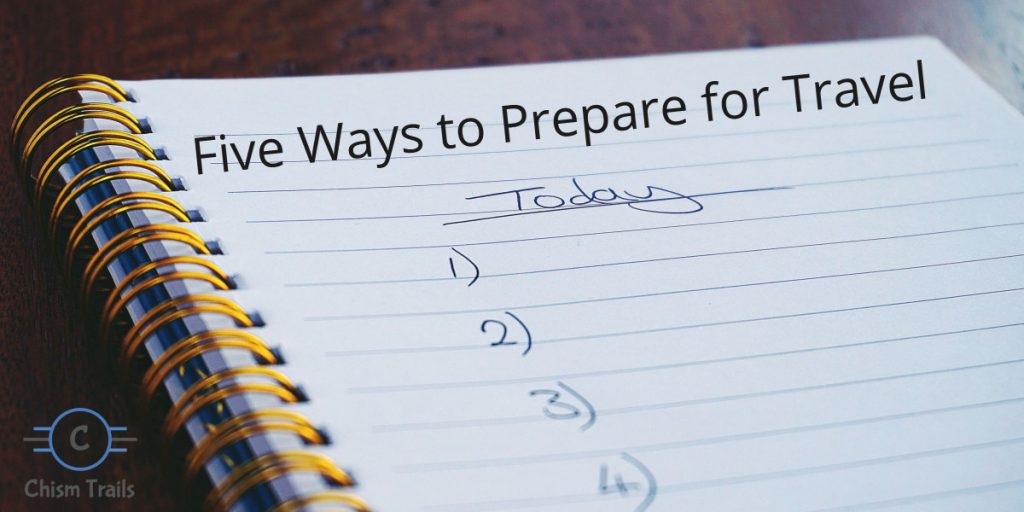 Prepare for Travel from the Checklist
Even as younger travelers, we always prepared for travel with a list.  Through the years we have developed/fine-tuned a list for short trips for a weekend 2 or 3 days as well as a checklist for longer trips. The lists aren't official or fancy but help to get the job done for us.  There isn't anything worse than leaving on a trip and realizing hours later, miles from home, that you have left the coffee pot still hooked up and full of coffee grounds.  We did that one time to come home to a coffee pot full of mold that took forever to clean and get the smell out.
Or you didn't pack any jackets-weather may be unseasonably cold where you are going.  One year, we took a trip in April to one of our favorite campgrounds about 1 1/2 hours away from home.  We didn't pack any jackets for anyone.  We had the whole family of 8 with us at Defeated Creek in Cartridge, TN.  And Walmart, the only store in town, was quite a distance into town through winding roads and woods.  Nevertheless, we were off to Walmart to buy jackets.  We bought all they had-blue jackets in every size for all of us.  We were the smurfs on the campground, but warm-thank goodness the grandkids were too young to care about style or image.
Checklists are key for packing for short and long trips.  And we also work from a checklist for the house.  The length of the trip and the time to be gone will determine which list to use.  If we are going for the weekend, we aren't likely to unplug the coffee pot but we always empty coffee grounds.
Back at Home
For longer trips, we turn the water off and unplug various appliances.  We also turn the water heater down.  The water is also turned off on the washing machine.  It is also good to put lamps on timers throughout the house to turn on at different hours.  Amazon sells some timers that can be used for this and they aren't expensive.  We also let our neighbors know we will be gone and ask that they look out for anything unusual and ask they call us to let us know.
Never Leave Home without them:
Club Membership Cards
Many campgrounds give discounts if you are a member of certain clubs.  The Good Sam Club, for instance, is a good membership to have.  Some campgrounds will take your word for it, but some won't and it's best to have an updated card in your wallet.  If you add the app to your phone, you can add the card there so you can have it all the time.  If you are a senior or handicapped you can purchase the Senior Pass Card.  Many national parks will give discounts for various items with this card from free parking to discounts on gift store items as well as free or reduced rates for entrance fees.  It always saves us half the price on any COE campgrounds (Corp of Engineers)
Insurance Cards
One of the most important things to remember is insurance cards.  Since some states do not honor insurance cards that are expired, it is REALLY important to have up to date cards for the hauling vehicle as well as the unit itself.  You may have been with the same insurance company for years but the officer won't know that.
Roadside Assistance Membership Cards
Another card you need to have in your wallet/purse is any roadside assistance cards for a membership you might have.  If you don't have a membership for that service, you should get one.  You never know when you will need help.  Just recently, we took a trip to Florida.  While we were sitting in the campground, we had a flat tire.  The Good Sam's Roadside Assistance membership really came in handy.  We called and they came and changed the tire.  Sams Roadside Service doesn't send out new cards yearly, but the number on the card will let them know your membership is valid.  My husband had to purchase a new tire for a spare. 
But that wasn't the half of it on this trip.  After we left the campground heading home just 24 miles down the road, we had a blowout and we were on a terribly busy thoroughfare.  We pulled over under a bridge and I called Good Sam Roadside Service once again for help.  This was not a safe environment at all.  The traffic never slowed down, rocking the camper back and forth as it whizzed by.  It wasn't safe to stay inside the truck so we walked down under the bridge and waited for help.  By the way:  if this happens to your family make sure you take everyone to the back of the camper as far as you can get because if the camper is accidentally hit it will be pushed forward.  This membership isn't expensive, but sometimes the wait is fairly long as it was this time.
Medical Roadside Assistance Membership Cards
Good Sam also offers a Medical Assist Card.  If you have a medical emergency while on a trip, they will transport you to a hospital and also haul your camper home.  It isn't expensive, but well worth it for the peace of mind it gives.  Thankfully, we haven't had to use this service yet.  Whether you are seniors or younger travelers, things happen and being prepared is the key to a safe and happy trip.