RV cooking can be enjoyable and fairly easy. Even cooking gourmet meals shouldn't be a problem if you have the right tools. When choosing tools for my RV cooking I ask several questions.
Can it be used in multiple ways?
How many do I need to accomplish my tasks?
Can I manage with out it?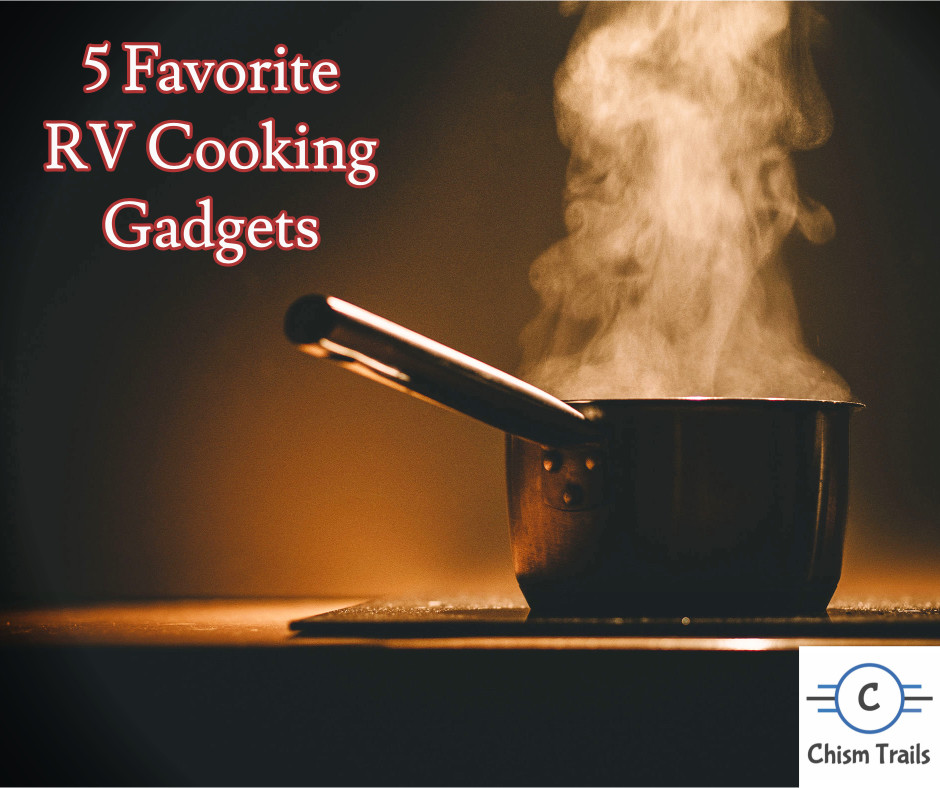 Here are my five favorite RV cooking gadgets.
Pots and Pans for our RV Cooking
These are really sturdy. They are hefty but yet not heavy. These are equal to the great sets  you would find in a gourmet kitchen.  The interior is smooth, and the bottom is heavy enough to ensure even heat transfer for cooking. That this one is also suitable for induction cooking is why we got it. We wanted something for our new camper that could not only be used on the gas stove, but could be used on an induction cooking plate we had gotten. This way, we can use gas when we don't have AC power available and the induction cooing plate when we do.
The handles are excellent. They lock on so you can safely invert the pot.  The only thing that could be considered a downside is that they do not store inside the set.
I love the fact I can cook on the top of the stove then easily transfer my pan to the oven to finish cooking and easily remove the handle as I slide it in the oven.
The way they nest and store is great. We don't have room to store separate pots and pans. This keeps the whole set in one compact unit that tucks into the drawer under our table nicely. One thing I found is that giving the elastic band a half-twist when putting it on helps it to stay in place better than just running it across the top. It will look like an X across the top when done this way.
In addition I found some pot and pan protectors to put in between the pots to keep them scratching each other during travel.  Magma Products No-Skid 3-Piece Pot Protectors Set, Grey
Coffee Every Morning in the RV
You expect a coffee pot here right? Well I will tell you about our choice coffee pot but first I want to tell you about our favorite cups for our RV.
I have a pink one and he has a green one.
This was bought for our RV to save space. We love having our coffee in the morning and wanted a decent collapsible mug, yet one that didn't collapse while we were drinking.
The silicone material is familiar if you bake, its made of the same stuff you use to bake cakes, etc.  The silicone is not flimsy, nor does it bend under slight pressure. One can hold it by the handle and not feel like it will collapse in the hand.
It will however close/collapse well and easily. The lid is also sturdy and thick like the lip and base of the cup. The only thinner part, but not flimsy, is the inner ("dented" crease) of the cup. You can see that it is thinner but that's where it collapses to close for storage but it does not feel like you'll be squeezing your hot beverage on your hand with a good grip.
It closes to a decent size and stores easily in our cabinet above our sink. We simply bought two of these for the two of us and use them every morning.
The packaging states that it's: FDA & LFGB approved. Also, that it's 100% Food Grade Silicone and BPA Free. It is also Microwave, Oven, Freezer, and Dishwasher Safe. It also states that: "Good for Temperatures from -40 to 446 Degrees Fahrenheit."
Coffee must have a maker Keurig K-cup
These fit nicely with our Coffee maker. We have the Keurig K15 Single Serve Compact K-Cup Pod Coffee Maker, Platinum We like this one because it doesn't have water stored in the brewer so it is easy to pack for travel. It also is small and sits nicely and compactly on the counter during our stay. We have even been known to grab it and make a cup of coffee at the rest area in route. 
Mixing and cooking in our RV and so much more
Squish 10pc Bowl and Measure Set  
When we bought our RV we were limited due to weight. So I had to be meticulous about items I put in the RV. This product (along with the 4qt. colander and several other pieces) has certainly fit the bill for a space-saving bowl. The colors are fun and the product really does squish down to a small size for easy storage. Plus, it's sturdy so you don't feel like you're going to break it when you pop it out or smash it down. I have made cakes, biscuits brownies and so much more with these great squish products. Love them!! Even got my mom to get some from her RV.
RV cooking yields trash needing a place to go
Mikey Store Hanging Kitchen Cabinet Trash Bag Holder Garbage Bags, Storage Rack (Green)
This little gadget is just right for an RV. I am thrilled to find this bag holder. It is useful inside and outside. We have an outside kitchen on our RV but there isn't much space so hanging this just in front is so helpful. This cabinet holder is small for smaller bags. I also have a larger one that holds my kitchen trash bags. That one works on the end of the counter and the end of a picnic table.
Fast RV Cooking is a great
I purchased one for our first small RV because we didn't have a stove. I liked it so much I saved up and got one for the house too. My mom had one for her house first then saw mine in the RV and she had to have one in her RV too.   I have used mine often.  Four times in a week or more:  simple mashed potatoes one night as a side, then beef stew one night, potato soup another night, and pork roast. I don't follow the recipes exactly. I just use them as a guide. Rule of thumb for me is at least half cup a liquid in anything and soups get more. All meats use the sauté button first and stir and brown my meat and sauté onions and other veggies usually takes about 3 mins. Then pressure cook.
I love the Instant pot. Year ago we used to travel with a crock pot but NO MORE! I no longer even own a crock pot. If you own a crock pot and use it often you will love the Instant pot and will use it even more. Read more here.
Do you have any favorite cooking gadgets? Please share with me below in the comments. I may just have to go shopping some more.